New Directions Early Head Start
New Directions Early Head Start
Due to the COVID-19 pandemic, all intakes, home visits, socializations, and parent workshops are virtual. Centers are open and operating at a reduced capacity. Please continue to check our homepage for updates.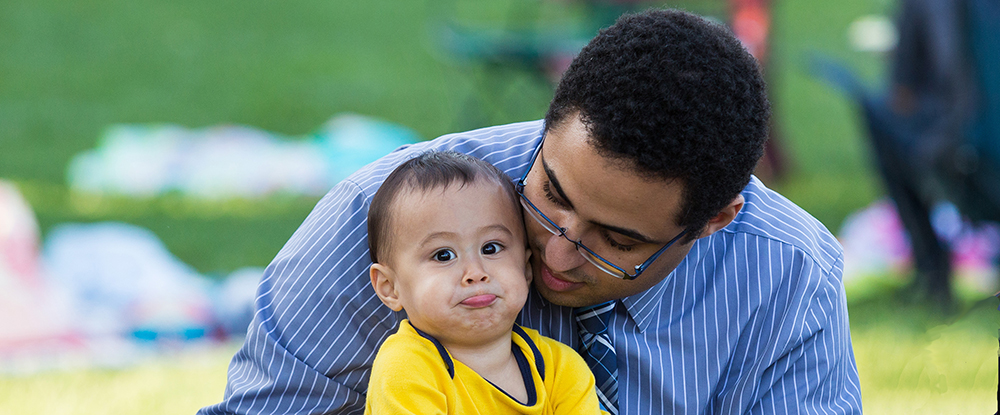 Head Start recognizes that both fathers and mothers play an essential role in the healthy development of children and that children benefit from a strong, cooperative relationship between both parents.
Head Start appreciates and wants to learn about both parents, as fully as possible, regardless of whether the parents reside in the same home.
Engaged fathers—whether they live with their children or not—contribute to the well-being of their children, their families, and their communities. In Head Start, father engagement means that fathers and staff work as partners to promote the child's best interest, to exchange knowledge about the child, and to share in program governance. They also work together to establish child and family goals that are motivating and fulfilling.  ("Head Start Father Engagement_Birth to Five Programming Guide")
One of the most important influences a father can have on his child is indirect—fathers influence their children in large part through the quality of their relationship with the mother of their children. A father who has a good relationship with the mother of their children is more likely to be involved and to spend time with their children, resulting in children who are psychologically and emotionally healthier. Similarly, a mother who feels affirmed by her children's father and who enjoys the benefits of a happy relationship is more likely to be a better mother. Indeed, the quality of the relationship affects the parenting behavior of both parents. They are more responsive, affectionate, and confident with their infants; more self-controlled in dealing with defiant toddlers; and better confidants for teenagers seeking advice and emotional support. ("The Importance of Fathers in the Healthy Development of Children", US Dept. of Health and Human Services, Children's Bureau.)
Here are some resources for fathers and father engagement: